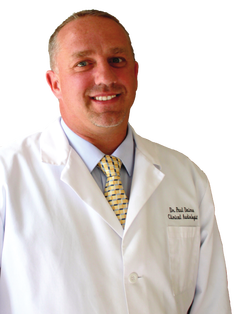 Dr. Paul Mark Daines is a life long resident of Cache Valley.
After returning from an LDS mission to the Philippines he enrolled at Utah State University where he obtained a bachelors degree in Communicative Disorders and Deaf Education. He continued his education and earned a doctorate degree in Audiology as well as receiving recognition for Scholar of the Year during the last year of his coursework. He spent the following year completing a clinical fellowship followed by employment as a clinical audiologist. Then in 2012 he decided to pursue his dream of having his own practice. He purchased an older house on Logan's main street and remodeled into a beautiful and inviting office space with easy access and plenty of parking.

Staying true to his desire to provide the most advanced hearing care available he purchased all new state of the art equipment that will allow for the most precise and individualized hearing aid testing and fitting.

Dr. Daines is one of only 8 Board Certified Audiologists in the State of Utah. He also holds certifications from the American Academy of Audiology (AAA), the American Speech-Language-Hearing Association(ASHA) and is a member of the Utah Speech-Language-Hearing Association. His commitment to understanding and providing the most advanced hearing health care is unmatched. He has recently received the Scholar and ACE awards from AAA and ASHA for his continued educational efforts.

While Dr. Daines experience and knowledge is unmatched what truly sets him apart is the caring he has for his patients. Each patient becomes a friend as is treated as if they were family. It is not uncommon for some of the older ladies to give him a hug after a visit to the office. He treats them just the same as he would his own grandmother. These relationships are very important to Dr. Daines and are what bring him happiness in his work.

When Dr. Daines is not at work he enjoys spending time with his wife Jerusha, daughter Savannah, and a very energetic German Shepherd named River. Together they enjoy skiing famous Utah powder at the resorts and in the backcountry of Utah's beautiful mountains. In the summer time they enjoy spending time at the lake, hiking, and family cookouts at grandma and grandpas house.




---